Dams and Barrages
Dams
A dam is a barrier that impounds water or underground streams. Dams have played a key role worldwide in development. Dams are built to supply water, control floods, irrigate agricultural lands and provide for navigation. They have also been built to generate electric power.
Picture: Tarbela Dam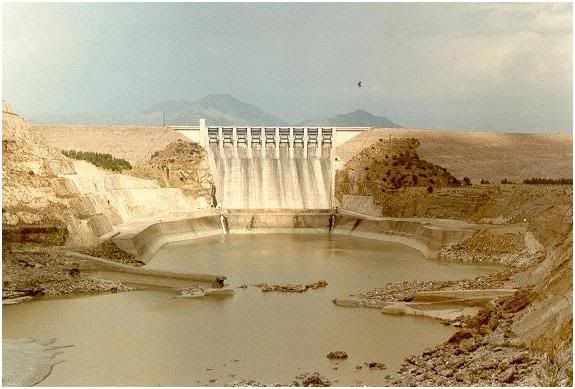 Benefits of Dams:
1. Power generation:
Hydroelectric power is a major source of electricity in the world. Many countries are making dams on rivers for power generation purposes.
2. Water supply:
The water requirement of many urban areas of the world is fulfilled from dams.
3. Stabilize water flow / irrigation:
Dams are often used to control and stabilize water flow, often for agricultural purposes and irrigation.
4. Flood prevention:
Excessive precipitation in an area results in floods, which causes huge loss to life and property in the low lying areas of a river where the flood water flows. Dams and reservoirs are effective and can be used to maintain water levels in a river. The flooding downstream of water can be temporarily stored in a dam and released later when it is required.

5. Land reclamation:
Dams (often called dykes or levees in this context) are used to prevent ingress of water to an area that would otherwise be submerged, allowing its reclamation for human use.
6. Recreation and aquatic beauty:
Dams play an important place for recreational purposes. People may have come to enjoy the reservoir for recreational and aesthetic reasons. Often the reservoir will be placid and surrounded by greenery, and convey to visitors a natural sense of rest and relaxation.

7. Navigation:
Natural river conditions, like currents, changing river levels, and snowfall, create major obstacles and problems for local inland navigation. Dams can effectively be used for controlling the levels of water in a river where inland navigation is carried.
Disadvantages of Dams
1.
Seepage and evaporation
2.
Groundwater table effects
3.
Sedimentation behind dams
4.
Erosion downstream by sediment-starved waters
5.
Clogging of rivers by side-canyon floods
Barrages
A barrage dam is a special kind of dam which consists of a line of large gates that can be opened or closed to control the amount of water passing the dam. The gates are set between flanking piers which are responsible for supporting the water load. They are often used to control and stabilize water flow for irrigation systems.
Picture: Chashma Barrage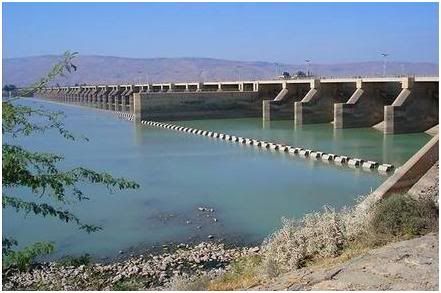 Difference between dam and barrage
Both the dam and barrage are barriers constructed across a river or natural water course for diverting water into a canal mainly for purposes of irrigation, water supply etc. or into a channel or a tunnel for generation of power.
In case of a barrage, its entire length across the river i.e. between the banks is provided with gates having their bottom sill near the river bed level. Thus, the storage behind the barrage is solely created by the height of the gates.
The dam on the other hand has spillway gates almost near its top level and the storage behind the dam is mainly due to the height of concrete structure and partially due to the gate height.
In both the cases, however, the number and size of gates is adequate to pass the design flood during monsoons.