THE BEST ISLAMIC SOFTWARE WITH AZAN,QURAN,QIBLAH ETC AIO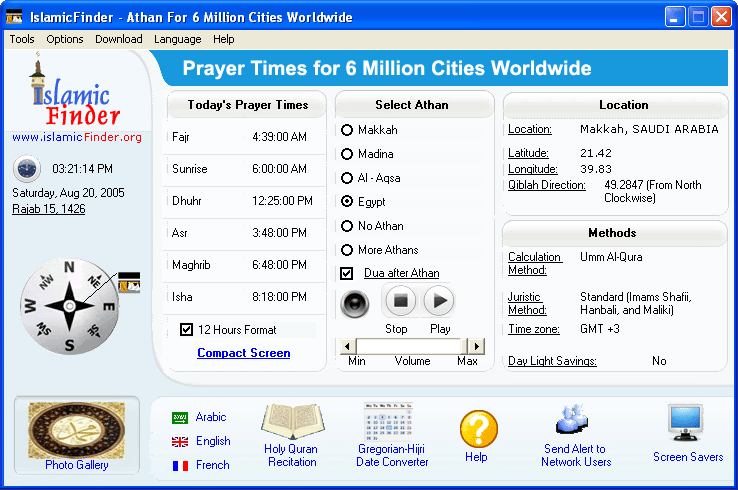 You can select location according to your country and It's city
THE BEST ISLAMIC SOFTWARE WITH AZAN,QURAN,QIBLAH ETC AIO | 6.95 MB
Athan (Azan) 3.8 allows you to hear automatic Athan (Azan) at the right time five times a day on every prayer time. Most Accurate Prayer times, Qiblah direction, Hijri Islamic Calendar, and many beautiful Athan (Azan, Adhan) sounds. More than 10 Million Athan Downloads Worldwide.
Automatic Athan (Azan) at every prayer time.
Prayer times for more than 6 Million cities.
Interface in Arabic, English, French, Russian, Chinese, German, Dutch, Italian, Bosnian, Turkish, Uzbek, Swedish, Indonesian, Albanian, and Spanish.
Hijri and Gregorian calendars.
Athan (Azan) from Makkah, Madina, and Alaqsa.
Athan (Azan) from Egypt, Lebanon, Bosnia, Pakistan, and Yusuf Islam
Dua after Athan.
Minutes Adjustment to make Prayer times 100% accurate according to local Masjid (Mosque).
Hijri date Adjustment according to user country.
Additional reminder a few minutes before or after prayer times with Quran Recitation.
Customized calculation methods.
Advanced options.
Quran recitation of selected Suras with option to add more.
Set different Athan reciter at different prayer times.
Rotating pictures from different Masjids.
Qiblah direction in graphical format.
Send Athan alerts to users in your local Network.
Hijri and Gregorian Date Conversion.
Requirements:
Windows 2000 / XP / 2003 / Vista / Windows7 / XP64 / Vista64 / Windows7 64
http://hotfile.com/dl/34318328/4fb27...C_AIO.rar.html
I don't know in which category I should post it..I found it very useful ......... moderator can correct category if I posted it in a wrong category