The name "Ansoo" comes from its tear-like shape [the Urdu word Ansoo means teardrop]. This lake also resembles Human Eye with central ice land resembling Iris of Human Eye and a ridge resembling Eyebrow becoming even more prominent when ice melts on the Eyebrow in summers.
Ansoo Lake is a high-altitude lake [elevation 16,492 feet or 5,027 metres] in the Kaghan Valley in the Mansehra District of the Khyber-Pakhtunkhwa province of Pakistan.
There is no risk free way to reach lake waters because it lies in the crater with steep, snow covered walls. There is no apparent drainage of lake water and no one ever tried to explore it because of its dangerous approach and limited resources in that area!
The lake is said to have been discovered in 1993 by Pakistan Air Force Pilots who were flying low in this area. Earlier, the lake was not even known to the locals.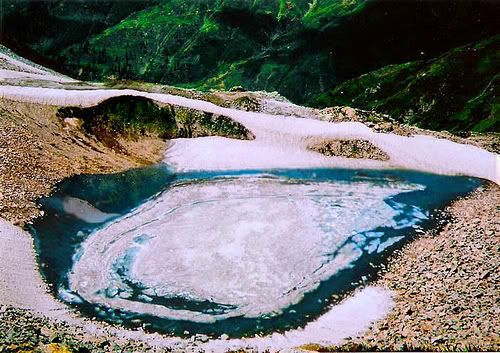 Source: Ansoo lake of Pakistan